We sell liquidation surplus mix assorted women's clothing by pallets and truckloads, all from major U.S. retailers & Name Brands. These clothes are mixed and processed at our warehouse in Miami Florida, where we invite our customers to visit, in order to inspect the merchandise.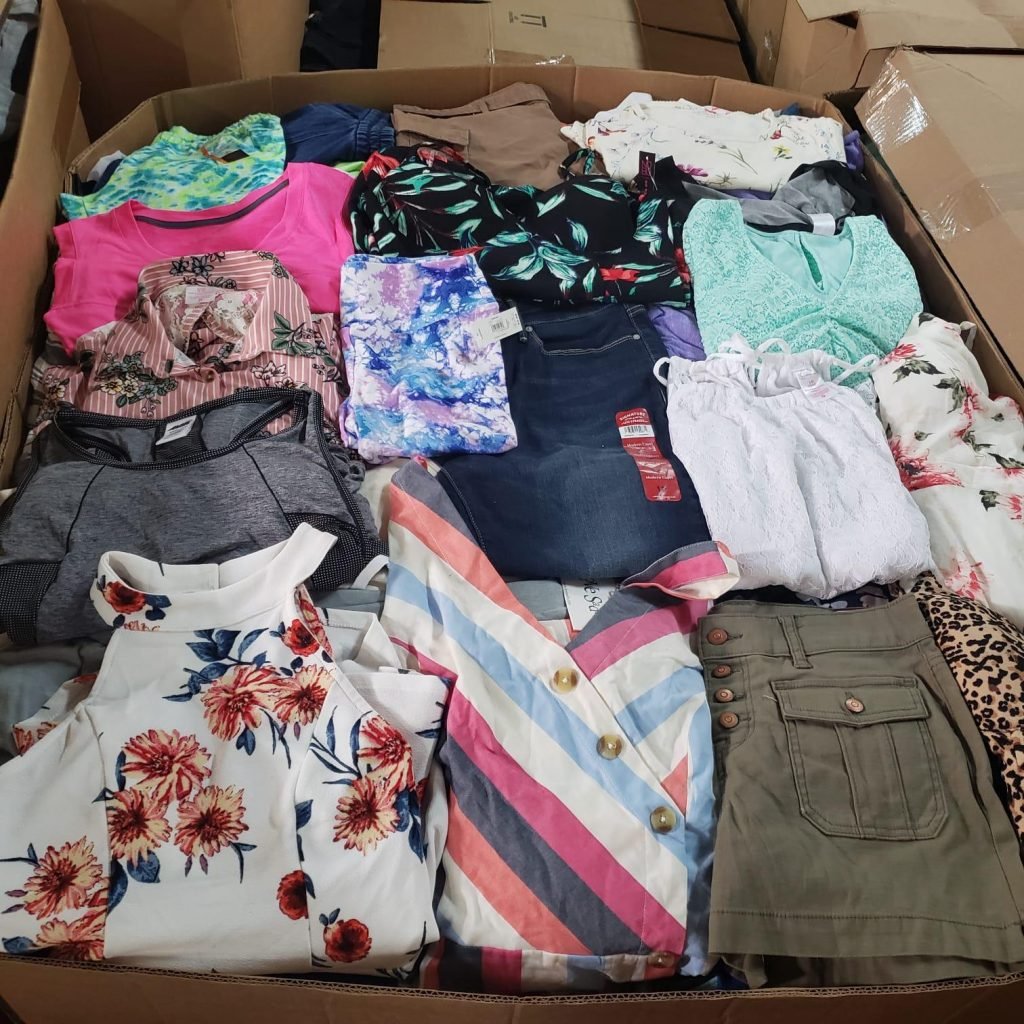 Women's Spring / Summer Clothing Mixed Pallets
Mixed Women Apparel Liquidation Pallets
SKU: WSSCPL
| | |
| --- | --- |
| Piece Count Per Gaylord: | 1400 |
| Est. Retail Value | N/A |
| Condition: | Surplus / New |
| Ex-works | Miami |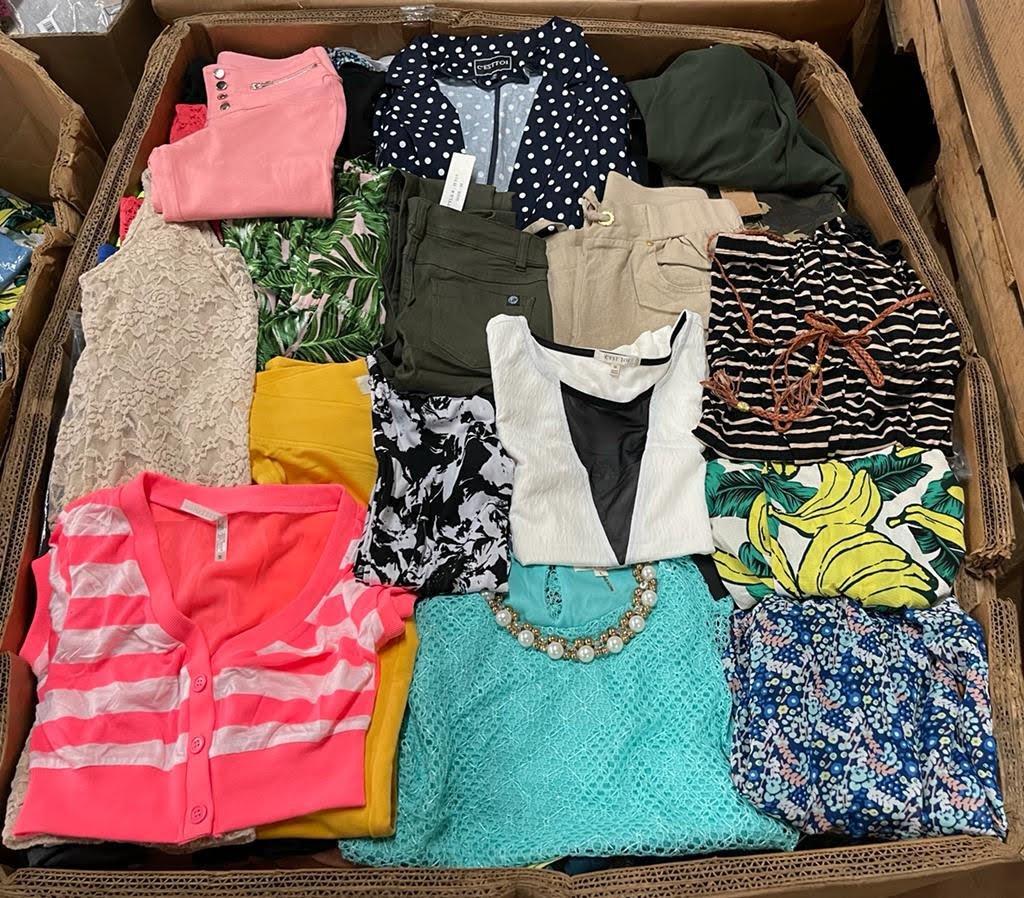 Shop Women's Clothes Pallets by the Truckload
We are a wholesale company that works with major U.S. retailers which allows us to maintain a constant supply of all our merchandise, and provide prices to our customers below wholesale 90% OFF MSRP, in large quantities by the Truckload and Pallets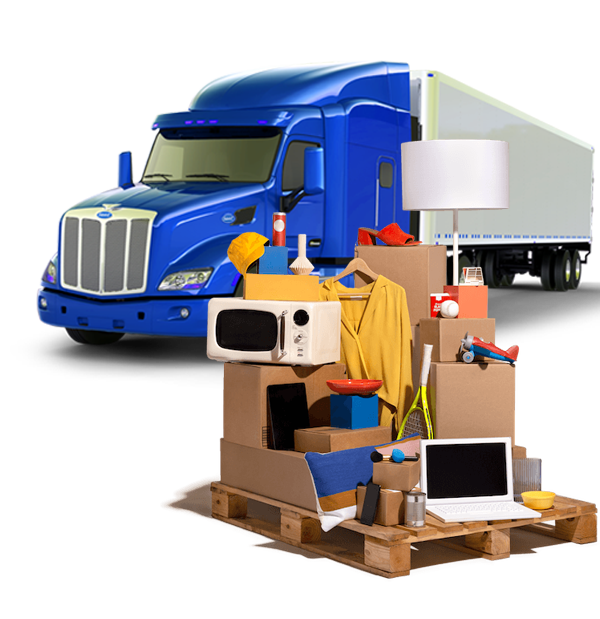 Name Brands That you may Find in the Mixed Clothing Pallets
This blend features a wide range of name-brand and designer clothing, from Big Box Retailers in The U.S.A
Moschino
Levis
Dickies
Nike
Calvin Klein
Tommy Hilfiger
Ralph Lauren
and many more…
What Articles are on the Women's Pallets?
Our Big Box Gaylords Comes with a Different Kind of Women's Clothing like
And many more Categories…
Best Women's Surplus Clothes Liquidations
Our Mixed Clothes pallets allow all our customers to generate huge profits. With us, you will always have a partner by your side. We will make sure you get the best value for your money.
Source Pallets of Clothing in Miami Florida
We are not brokers, we sell the merchandise we have in our warehouses in Miami Florida. We encourage our customers to visit us to touch the merchandise. You will find that there are many companies in the market that claim to have the apparel truckloads and it turns out that they actually don't own them, they are just middlemen on the sale, which will result in the product being overpriced or scammed at the end.
Our lots are categorized and classified by Women Spring-Summer / Women and Fall-Winter.
Get in Contact Today
Contact us, if you have any questions about our products or for an appointment with one of our sales associates.
Understanding Women's Clothing Liquidation
Liquidation in the fashion industry refers to selling large quantities of clothing at deeply discounted prices. Typically, these products come from closeouts, overstock, shelf pulls, and returns.
Our Pallet Selection
Orotex Liquidation offers extensive clothing pallets with garments ranging from chic casuals to elegant formals. Each pallet we offer has undergone a strict quality control process to ensure that every item meets our stringent standards.
Why Choose Superior Liquidation Pallets?
We pride ourselves on sourcing high-quality, fashion-forward pieces, offering our customers tremendous value for their investment.
High-quality Women's Clothing
Our pallets include a wide variety of garments crafted with an emphasis on quality, style, and durability. From breathable cotton t-shirts to sophisticated silk dresses, each piece is a testament to excellent craftsmanship and design.
Tremendous Cost Savings
Purchasing our liquidation pallets can yield significant cost savings for businesses. With a substantial reduction in cost per item, you can maximize your inventory while minimizing your investment.
Simplified Inventory Management
With our curated pallets, inventory management becomes a breeze. Rather than sourcing individual items, businesses can acquire a diverse range of women's clothing in one fell swoop.
Our Commitment to Sustainability
Our commitment to sustainability remains unwavering. We focus on procuring garments produced with sustainable practices, thus ensuring that we promote great style and conscious consumption.
Responsible Sourcing
We prioritize pallets that contain garments made with eco-friendly materials like organic cotton and recycled polyester, contributing to a more sustainable fashion industry.
Reducing Waste
By selling overstock and returned items, we help reduce the waste generated by the fashion industry. Each piece in our pallets gets a second chance at finding a home, rather than ending up in a landfill.
Seamless Shopping Experience
Shopping with Superior Liquidation is designed to be smooth and hassle-free. Our team is ready to assist you every step of the way, ensuring that you find the best pallets for your business needs.
Expert Assistance
Our experienced team of representatives is always ready to assist you in making the most informed decisions about your wholesale purchases.
Fast, Reliable Shipping
We guarantee swift and reliable delivery of your pallets, ensuring your inventory is replenished without delay.
Frequently Asked Questions (FAQs)
What is the condition of the clothing in your pallets?

What is the condition of the clothing in your pallets?

All clothing in our pallets is in surplus or new condition. We ensure all garments meet our strict quality standards before they arrive on our pallets.
Can I visit your warehouse?

Can I visit your warehouse?

Yes, we welcome all customers to visit our warehouse in Miami, Florida. It's an opportunity for you to inspect the merchandise before purchasing.
How often do you receive new merchandise?

How often do you receive new merchandise?

Thanks to our strong relationships with major U.S. retailers, we maintain a consistent supply of merchandise.
Do you only sell in pallets or also in smaller quantities?

Do you only sell in pallets or also in smaller quantities?

We specialize in selling in significant quantities by truckload and pallets, offering the best value to our customers.
Join the Orotex Liquidation Family
Become part of a network of successful retailers who have discovered the power of high-quality, affordable women's clothing through Orotex Liquidation. Together, let's redefine the boundaries of style and affordability, making great fashion accessible to everyone. Explore our diverse pallets today and start building your inventory with unparalleled savings.